Focused on helping you grow your RIA business
We merge your vision with our passion
Working with Fidelity means a disciplined, collaborative approach that helps us understand you and your Registered Investment Advisor (RIA) business. With custody at our core, we provide innovative solutions and support, and have a range of unique service models to fit your business — no matter the size, including a Multi-Family Office offering.
With more than 20 years of experience working with RIAs, we can get you up and running quickly and efficiently while ensuring a smooth transition for both you and your clients. On day one, your dedicated service and relationship management team begins working with your Implementation Project Manager and transition team — so we're ready to support you right from the start.
Your experienced client service team consists of the same Relationship Manager, Client Service Manager, and Client Service Representatives who will continue to work with you after the transition period is complete. Your team works side-by-side at the same Fidelity location, making it easy to share knowledge and seamlessly work together to support your business.
Service team
Cashiering
Maintenance
New accounts
Transfer of assets
Transform for the future
Get insights and perspectives from today's leading RIA firms, and learn how you can take your own business forward.
Learn More
A consultative approach
Your Relationship Manager will work with you to define what success looks like for your firm, and then help you devise a plan to get there. Many of our associates have worked for an RIA, or have completed our extensive training program in which they establish and run their own model firm. This gives them a keen understanding of the complexities of your business, and helps further deepen the client experience. Pursuing our goal to help you succeed, we listen diligently and take appropriate action on client feedback.
Additionally, we connect you with resources across the Fidelity organization, to help you better serve your ultra-high-net-worth investors or expand your practice into managing retirement plans.
What can today's trends mean for your business?
Amid a constantly shifting industry, certain challenges can turn into favorable opportunities.
Advisor Supply-Demand Imbalance
43.7% of all advisors in the U.S. are over the age of 551
Industry Consolidation
In 2019, 127 M&A transactions occurred among Registered Investment Advisor firms, representing nearly $151.3B in AUM2
Shifting Investor Demographics
One-third of all investors would switch advisors if not using technology to help manage wealth3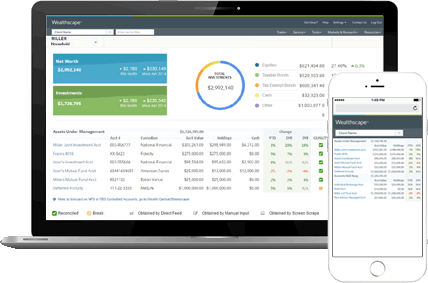 Leading-edge technology and investment solutions
As a client of one of the most diversified financial companies in the United States, you'll have access to our innovative technology capabilities — including Fidelity WealthscapeSM, a gateway to connect with Fidelity tools and third-party solutions. Backed by our commitment to an open architecture experience, you can also count on our in-house Fidelity Capital Markets group for a broad range of efficient and advanced trading capabilities.
LEARN MORE
Practice management and consulting
Fidelity's practice management program helps deliver on our Five Fundamentals of a Future-Ready Firm, grounded in fact-based research and enriched by exclusive insights and tools, this approach starts with a conversation then grows into a unique plan tailored to your business objectives.
Learn More
1. The Cerulli Report: U.S. Advisor Metrics 2019
2. Fidelity Fourth Quarter 2019 M&A Review
3. Fidelity 2019 Investor Insights Study