Integration Xchange
Build a better technology experience with access to hundreds of integrations to help you drive efficiency and differentiate your business.
Discover the power of integrations
In an increasingly complex Fintech landscape, integrating technologies creates new opportunities to save time, streamline processes, and reduce errors.
Our digital store helps enable developers to intelligently and securely customize wealth management technology.
For access to the digital store contact your Relationship Manager or Fidelity Representative.
Explore Integrations
Choose from 175+ third-party solutions across the wealth management journey
Compare 50+ capabilities across our real-time and bulk direct integrations
Start Building
Collaborate with an integration consultant to design a solution
Download documentation, confirm requirements, test, and deploy
Manage Your Tech Ecosystem
Access support from a single point of contact
Monitor data and get alerts for new integrations and updates
Leverage our comprehensive integration options
The Integration Xchange is not just an API store: It provides access to more than 600 active integrations, including: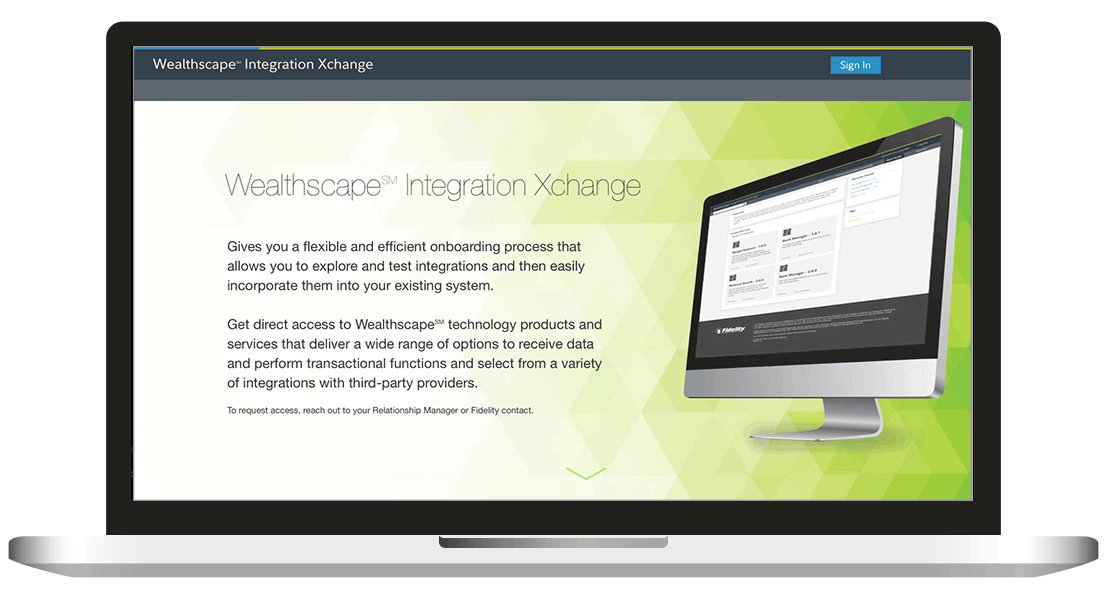 Real-time Integrations
Application Programming Interfaces (APIs)
Standardize access to WealthscapeSM features and brokerage data from other systems through retrieval functions and protocols.
Single sign-on (SSO)
Incorporate certain Wealthscape pages into your own site navigation or link directly to Wealthscape.
Bulk Integrations
Inbound and outbound data feeds
Process high volumes of data and transactional records between technologies with near-real-time file delivery.
FIX integrations
Manage orders and trades through the Financial Information eXchange (FIX), the standard for trading and regulatory messaging.
Contact your Relationship Manager or Fidelity Representative for access to the digital store.
Get started with third-party integrations
Explore our third-party marketplace to learn how you can connect our platform with today's leading technology providers. We fully vet our third-party providers to help ensure they uphold and reflect our industry-leading security standards.
learn more

















eMoney Advisor LLC is a Fidelity Investments company and an affiliate of Fidelity Brokerage Services LLC and National Financial Services LLC.
Third-party marks are the property of their respective owners; all other marks are the property of FMR LLC. Third-party companies are independent and unaffiliated with Fidelity Investments. Listing them does not suggest a recommendation or endorsement by Fidelity Investments.