Fidelity Bond Beacon®
Bringing together the trading technology and investment experience from across Fidelity to deliver an institutional-grade bond solution
Get the most out of Fidelity Bond Beacon®
See how firms and advisors can aggregate all their fixed income needs in one simple platform via WealthscapeSM.
A Simple Way to Navigate and Manage Your Bond Needs
Fidelity Bond Beacon® helps guide better outcomes by supporting intermediary bond trading and bond management from start to finish with seamless integration in WealthscapeSM, enhanced portfolio management tools, and institutional-grade liquidity.
Access to more bond offerings and market depth
Integrated client holdings to help advisors stay on top of their entire book of bond business
Seamless workflow including portfolio construction, execution, pre- and post-trade monitoring, and client reporting
Risk modeling and conditional market scenarios, informed by Fidelity research and supported by machine learning
Easy Access to Advanced Functionality
Search live markets, manage orders, and access advanced portfolio construction and portfolio management capabilities
Holdings for upcoming redemptions, ratings changes, and other important information
View current yield table and yield curves from live offerings, sorted by product type and maturity.
Order status and request for quote (RFQ) activity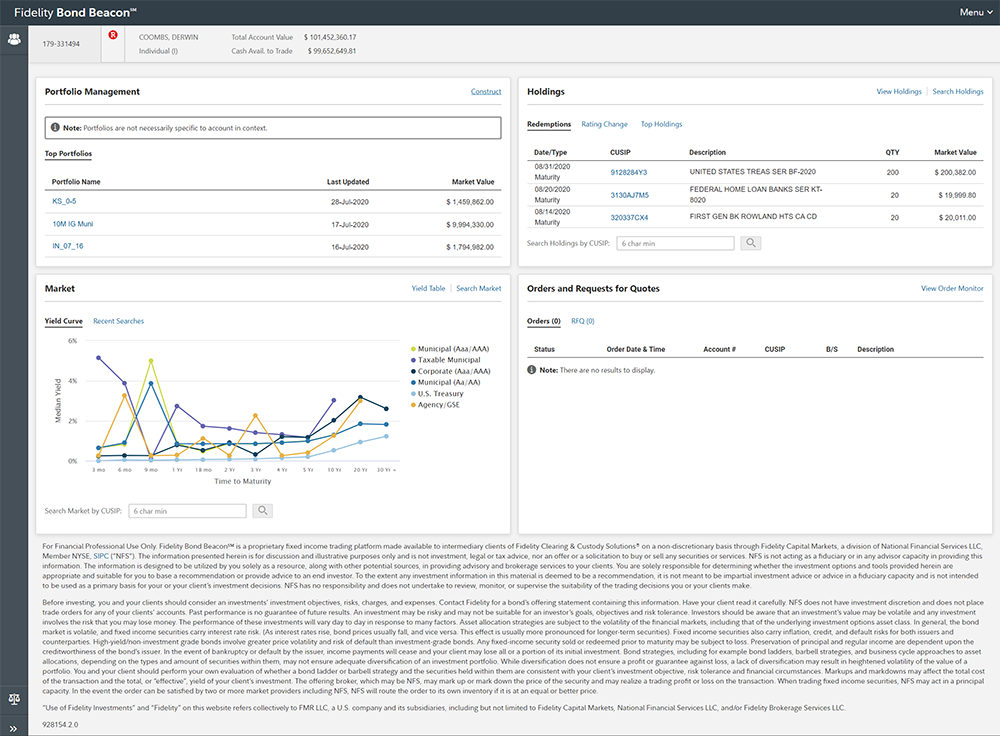 Advanced Portfolio Construction and Management
Customized institutional-grade portfolio construction with pre-trade analytics that incorporate live market offerings
Enhanced risk management solutions to support self-directed portfolio construction and management
Scenario-based tail-risk-sensitive analysis provided by proprietary modeling informed by Fidelity research
Easily execute on an entire portfolio at once
Create customized reports using live market offerings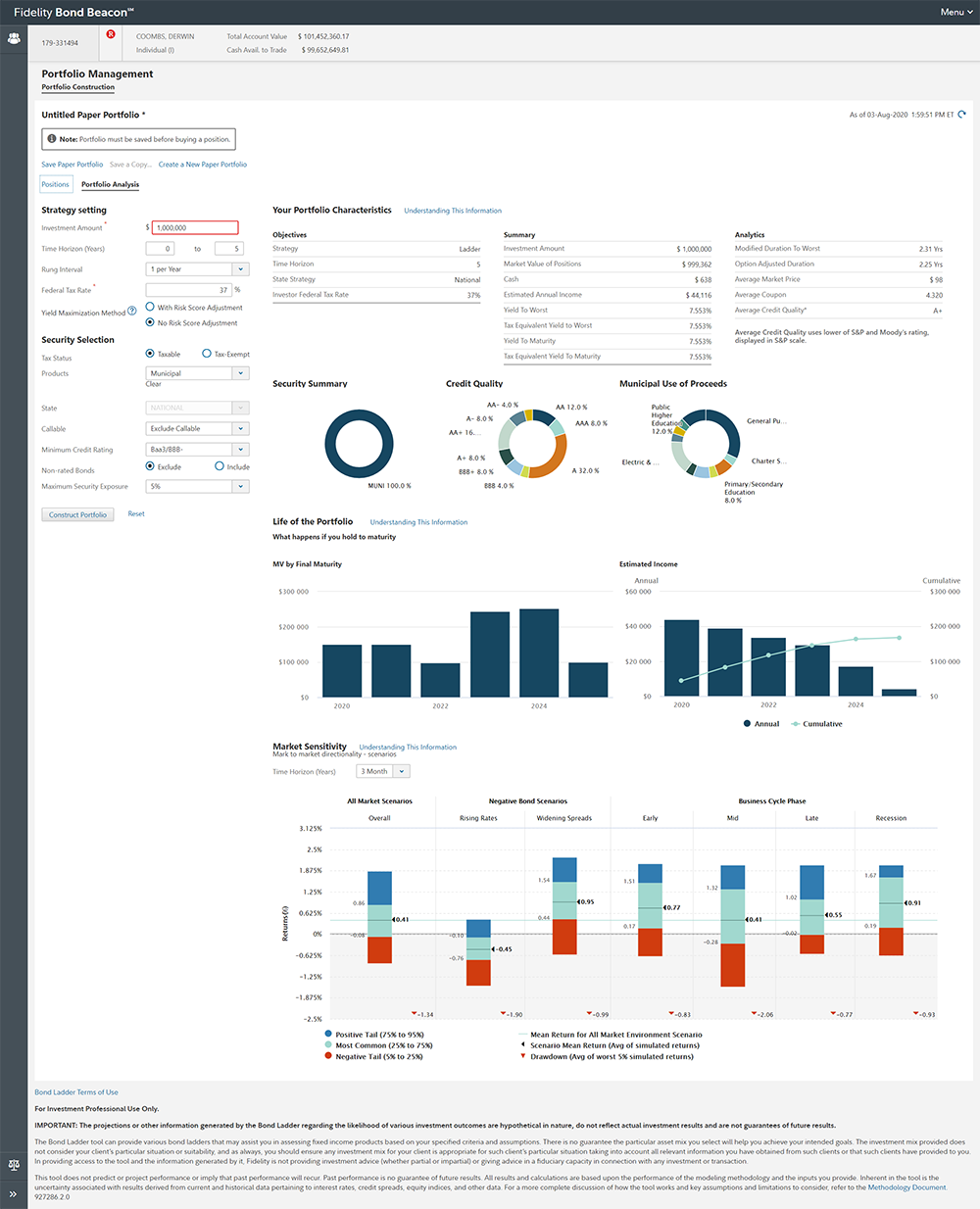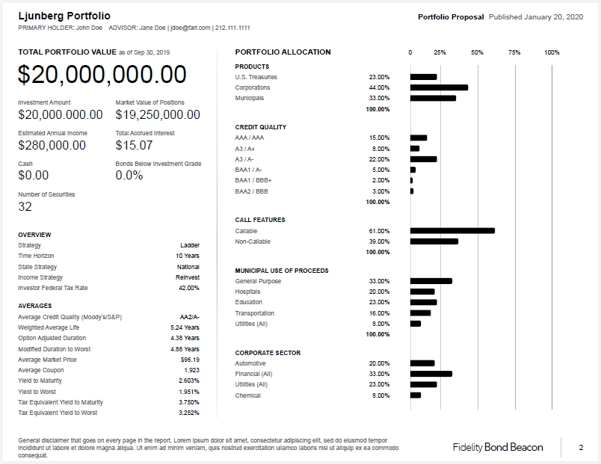 2021 WealthManagement.com Industry Award Winner
Fidelity Bond Beacon® has been named the winner of a WealthManagement.com Industry Award in the Asset Management — Fixed Income category. The WealthManagement.com Industry Awards honor outstanding innovation and achievements by organizations serving the financial advisor community.
Fidelity Bond Beacon® is made available to financial intermediaries including registered investment advisers, retirement plan administrators, banksand family offices on a non-discretionary basis by Fidelity Capital Markets, a division of National Financial Services LLC, Member NYSE, SIPC ("NFS"). The information presented in Fidelity BondBeacon® is for discussion and illustrative purposes only and is not investment, legal or tax advice, nor an offer or a solicitation to buy or sell any securities or services. NFS is not acting as a fiduciary or in an advisor capacity in providing the information herein or the information in Fidelity Bond Beacon®.
The information is designed to be utilized by you solely as a resource, along with other potential sources, in providing advisory and brokerage servicesto your clients. You are solely responsible for determining whether the investment options and tools provided by Fidelity Bond Beacon® are appropriate and suitable for you to base a recommendation or provide advice to an end investor.
To the extent any investment information in Bond Beacon is deemed to be a recommendation, it is not meant to be impartial investment advice or advice in a fiduciary capacity and is not intended to be used as a primary basis for your or your client's investment decisions. Before investing, you and your clients should consider an investments' investment objectives, risks, charges, and expenses. Contact Fidelity for a bond's offering statement containing this information. Have your client read it carefully.
NFS does not have investment discretion and does not place trade orders for any of your clients' accounts.
An investment may be risky and may not be suitable for an investor's goals, objectives and risk tolerance. Investors should be aware that an investment's value may be volatile, and any investment involves the risk that you may lose money. The performance of these investments will vary day to day in response to many factors. Asset allocation strategies are subject to the volatility of the financial markets, including that of the underlying investment options asset class.
Fidelity InvestmentsSM provides clearing, custody, or other brokerage services through National Financial Services LLC or Fidelity Brokerage Services LLC, Members NYSE, SIPC.