WealthscapeSM
An open brokerage platform for all your clearing and custody needs, WealthscapeSM can be customized or leveraged as a single solution to help you scale your business for the future.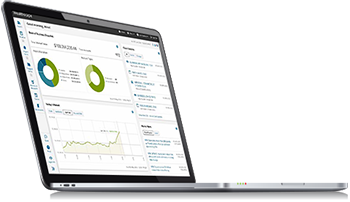 Web-based
Wealthscape is a web-based execution platform designed to help registered investment advisors, broker-dealers, banks, and family offices digitize their businesses.
Configurable
Our open platform is distinctly configurable, allowing you to deeply integrate with Wealthscape through a wide range of direct and third-party integrations—all accessible in one digital store.
Customizable
Our technology consulting team can help you navigate the industry's complex digital landscape to design the right ecosystem for your business.
Secure
Industry-leading security protocols are the backbone of our platform, and we hold all of our integrated third-party providers to the same standard through rigorous vetting.
Designed to Drive Transparency, Efficiency, and Growth
Wealthscape addresses the needs of home offices, advisors, and investors helping to create a more seamless and comprehensive experience.
Home Office Professionals Want:
Wealthscape Benefits:

A best-in-class value proposition for advisors
Growth with scale
Help managing regulatory and compliance risk

Home offices can attract more advisors and run more efficiently

Automates work processes and operations
Integrates with most leading third-party software
Puts business intelligence at home offices' fingertips

Advisors Want:
Wealthscape Benefits:

Serve investors more efficiently
To show value
To stay connected to changing investor needs

Advisors and Financial Representatives can spend more time building relationships

Automates functionality that links back to investor goals
Aggregates data to improve planning, advice, and portfolios
Increases productivity

Investors Want:
Wealthscape Benefits:

To reach their financial goals
A closer relationship with their advisors
On-demand access to to their picture

Investors get more engaged with their finances

Aligns all functionality and reporting with financial goals
Facilitates high-touch yet efficient investor-advisor communication
Provides on-demand access
Get resources to communicate the benefits of Welathscape Investor to your clients.
Key Platform Enhancements
Driven by the voice of the customer, we're continually evolving the platform to help meet clients' changing needs.
Evolving the Client Experience




Simplified, personalized design with modular, configurable solutions

Enhanced Integrations




Choice and flexibility through robust integrations

Innovation & Collaboration
Operational Excellence




Helping clients simplify their operations

Advanced Analytics & Reporting
Explore more flexible platform solutions with Integration Xchange
Build a better technology experience with access to hundreds of integrations to help you drive efficiency and differentiate your business.
Explore now