Client Insight Tool
Powerful insights and ideas that help increase your firm's profitability.
Request a consultation
About the tool
With more and more firms pursuing a client segmentation strategy each year, it's clear firms understand the importance of identifying which clients drive the most profitability. Traditional segmentation exercises simply identify client tiers and often leave advisors asking "now what?"
Fidelity's Client Insight Tool provides a deep analysis of your firm's households—going beyond client segmentation to help you understand where your revenue comes from and deliver actionable ideas to immediately increase profitability and create a sustainable, growth-enabled business.
Demographics
Revenue Weighted Age Concentration Risks Next-Gen Engagement
Segmentation/Profitability
Household Segmentation Cost-to-Serve Profitability Benchmarks
Pricing Discipline
Revenue Yield Analysis Impact of a Minimum Fee Pricing Dispersion
How it works
1
Engage with Us
Contact your Fidelity representative and obtain a data collection template.
2
Collect Data
Fill out the data collection template per the provided guidelines and return it to your Fidelity Representative.
3
Consultation
Within a few weeks, our team of consultants will provide a tailored analysis, including ideas for improving and sustaining your firm's profitability.
4
Implementation
Fidelity will work with you to implement strategies, products and solutions based on the analysis and track their progress over time.
Client Insights Tool in Action
Pricing Analysis for a $950M RIA
Firm A discovered a tier of clients being charged less than the firm and industry average
Ownership made the decision to implement a fee increase across this subset of clients
With guidance from Fidelity consultants, Firm A issued a fee increase on 162 low yield households, with 161 accepting the increase
The change resulted in a quarter-million dollar increase in firm revenue
Service Offering Changes for an $850M RIA
Firm B identified a need to efficiently engage with the next generation of their clients and source new younger clients to create a more sustainable firm for the future
Firm B used Fidelity Practice Management resources to create a new business development strategy focused on engaging younger clients through targeted events and online content
A scalable digital advice solution was implemented to help efficiently serve those younger clients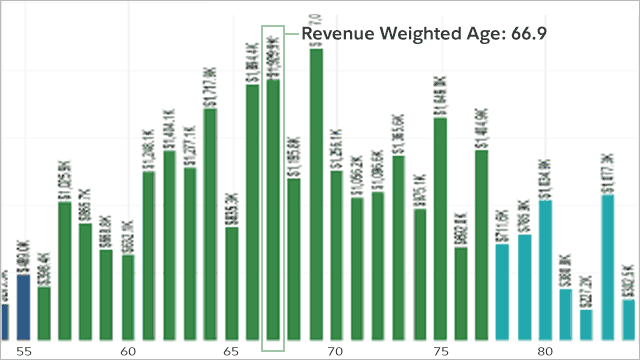 For illustrative purposes only.